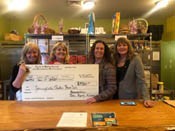 STATE HOUSE -- Representatives Teresa A. Tanzi, Carol Hagan McEntee, and Kathleen A. Fogarty recently presented the Jonnycake Center of Peace Dale food pantry with a $7,500 legislative grant to help purchase more crucial supplies for the food pantry.
"With parents out of work, schools closed, and uncertainty of when the next paycheck will arrive, the work of the Jonnycake Center is more important now than ever. This grant will help ensure that those who use the center will be fed and hopefully give these individuals a slight sense of relief during these trying times," said Representative McEntee (D-Dist. 33, South Kingstown, Narragansett).
"The work the Jonnycake Center does for our community is already crucial and during these uncertain and stressful times, their service is even more invaluable to the community. I thank them for their dedication to make sure that no one goes hungry or unclothed and I urge everyone to donate to their important cause," said Representative Tanzi (D-Dist. 34, Narragansett, South Kingstown).
"The Jonnycake Center has been serving our community with distinction for a long time and this grant will help them continue to provide food and clothing during this unsettling time of Corvid-19. There is not a more worthy organization for this grant than the Jonnycake Center and I thank them for providing help to so many," said Representative Fogarty (D-Dist. 35, South Kingstown).
"This legislative grant could not have come at a more important time. South County is suffering from the loss of hospitality jobs and laid off workers are coming to us for food in this time of crisis, in addition to those who count on us for food throughout the year," said Kate Brewster, Executive Director of the Jonnycake Center of Peace Dale.
The mission of the Jonnycake Center of Peace Dale is to provide basic needs, resources, and hope to their community members. They provide food, clothing, and various special programs to help those in need in the community.
In photo, from left: Kate Brewster, Executive Director, Rep. Kathleen A. Fogarty, Rep. Teresa A.

Tanzi

, and Rep. Carol Hagan McEntee at the

Jonnycake

Center of Peace Dale food pantry